Welcome
to Advance Engineers !
A series Portable Belt Conveyor, Screw Conveyor, Stacker, Bagasse Bale Breaker, Storage Hopper of the highest quality...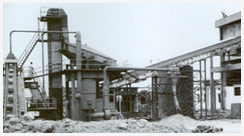 About Us

Advance Engineers was established in 2004 with the aim to cater to the needs of material handling systems and automation for a number of industries as a manufacturer and exporter. Since its inception, the company has been providing economically and technologically superior products by utilizing the latest technical advancements. We have been, since our inception, following these virtues:
Quality Assurance
Quality has always been the foremost consideration with the company management. We, at Advance Engineers, have entered into legally binding agreements with various distinguished vendors to procure the raw materials. This ensures a high degree of operational reliability.
view more>>
Infrastructure
Advance Engineers is equipped with a modern infrastructure comprising of a capacious warehouse and a well-qualified workforce. Timely delivery of the ordered product like Portable Belt Conveyor and more is crucial for survival in this industry; we understand.
view more>>
Customer Base
Advance Engineers is a customer focused company and our main mission is to be the supplier of choice to our customers across a wide spectrum industries including Power Plant, Cement, Fertilizer, Sugar, Sand, Starch, Mines.
view more>>